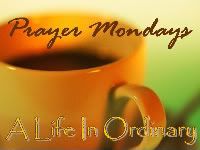 Prayer Monday couldn't come soon enough...last week I could have used Prayer Wednesday, Thursday, Friday, and Saturday. It was a rough week.
Prayer Requests For Me
Prayer Requests for Others
for my friend's dad who will have surgery to remove a tumor
for safe travel as people head over the pond to the Royal Wedding and to Spokane for Bloomsday
for taking new opportunities when they present themselves.
Lord Jesus,
Thank you for everything and everyone you have blessed my life with. How amazing that you died for all of us, so we could be saved. I'm truly humbled by that.
May I continue to walk in your way each day. Not blaming, but letting it go. Not letting it fester, but really forgiving. Not condemning, but accepting. I need help. Please help me to accept things in my life I cannot change and help me to change the things I can. Continue to watch over me and all the people you hold in your hands.
Amen.